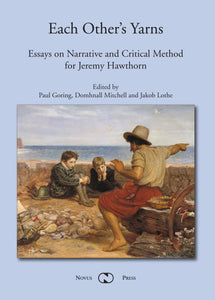 Goring, Paul et al.: Each Other's Yarns
34000 kr

340,00 kr
Tax included.
Shipping
calculated at checkout.
---
---
Essays on Narrative and Critical Method for Jeremy Hawthorn

Edited by Paul Goring, Domhnall Mitchell and jakob Lothe

This collection of essays is a tribute to the literary critic and theorist Jeremy Hawthorn who, during a career of over forty years as an educator and writer, has made numerous major scholarly contributions which have advanced ways of thinking within literary studies.

It contains eighteen essays all addressing topics explored within Hawthorn's work: pre-modern narrative and critical approaches, literature and politics, Modernist narratives and Joseph Conrad.

Together the essays reflect the diverse and international contours of Hawthorn's contribution, honouring his achievements whilst also demonstrating how insights from his work continue to inspire and fuel explorations of texts and issues beyond those which he himself has addressed.


Contents

Tabula Gratulatoria 9

Acknowledgments 11

Introduction 13

Books by Jeremy Hawthorn 21


Part I: Pre-modern narrative and critical approaches

James Phelan
How Did He Do That? Understanding Henry James' Revised Last Sentence in 'The Aspern Papers' 25

Paul Goring
Sourcing and Seeing the Past: Archives, Memories and Narrative Perspective in Tristram Shandy 41

Eli Løfaldli
Quixotic Book Consumption in Henry Fielding's Joseph Andrews 57

Domhnall Mitchell
Emily Dickinson, Jerome McGann and the Historical Method 71

Juan Christian Pellicer
Impediments and Inhibitions: Thwarted Communication in Great Expectations 91


Part II: Literature and politics

Tore Rem
Englishing Ibsen: The Socialist Perspective 107

Katrine Antonsen
The Complexity of Coalition: Duality in Michael Frayn's Democracy 123

Gail Fincham
Reflections on Jeremy Hawthorn's 'Dialectical Historicism' from a Buddhist Retreat 139

John Corner
The Utility of Fiction in Politics: 'Deception' and Public Communication 155


Part III: Modernist narratives

Bjørn Tysdahl
Ibsen's Presence in Joyce's 'Epiphanies' 171

Paul B. Armstrong
Bloomsbury and the Crisis of Liberal Modernism: Forster, Woolf, and the Thirties 181

Daphna Erdinast-Vulcan
On 'the Reality of Mediaeval Bodies': Virginia Woolf and Some Questions of Historiography 197

Andrew Michael Roberts
Time, Truth and Mediation in the Modernist Novella 213


Part IV: Joseph Conrad

Yael Levin
Make Love not War: Covert Modernisms in Joseph Conrad's The Rescue 233

Stephen Donovan
Kings of Capital: Charles Gould and John Thomas North (1842–96) 249

Josiane Paccaud-Huguet
'C'est le chapeau qui fait l'homme': Odd Hats in Under Western Eyes and 'The Secret Sharer' 261

Robert Hampson
'Not a Bad Frenchman': Conrad and National Identity 279

Jakob Lothe
History, Narrative, Ethics: Conrad, Titanic and Lord Jim 291


Contributors 308


Index 313


ISBN 978-82-7099-687-2, ISSN 1503-3457, 326 pp, hardcover
Format: 15x21,5 cm, weight 0,7 kg, year of publication 2012, language: English

---
We Also Recommend