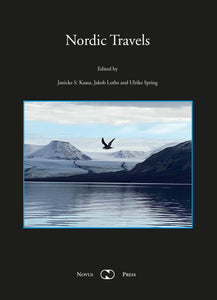 Kaasa/Lothe/Spring (eds.): Nordic Travels
34500 kr

345,00 kr
Tax included.
Shipping
calculated at checkout.
---
---
We all have stories of travel, and these narratives reveal how we define ourselves and how we understand others. The fourteen contributors to this book take "travel writing", "travel account" and "travelogue" as synonyms of the term "travel narrative". While the travel narratives discussed in this volume were written during, and after, journeys undertaken at different points in time, they are all related to the Nordic region: travels to, from and within the Nordics, by both Nordic and non-Nordic travellers. As the authors show, paintings, illustrations and objects such as souvenirs also contribute to our understanding of travels to, from and within the Nordic countries. This range of travellers and travel experiences offers strikingly different perspectives on the Nordic region, which in turn allows for a comparative and critical approach. The element of comparison is crucial here; it shows not only how dissimilar perceptions of the Nordic are but also how they have changed over time. One concluding point made in the book is that if Nordic travels have been associated with a privileged mobility unavailable to noncitizens and refugees, travellers from the Nordic countries will be even more troubled by this implicit reference as climate changes accelerate. Presenting Nordic travels as multi-dimensional and dynamic, the collection owes its inception to the UiO:Nordic research initiative.
*
Janicke S. Kaasa is associate professor at the Department of Archivistics, Library and Information Science, Oslo Metropolitan University.
Jakob Lothe is professor of English literature at the University of Oslo and leader of the committee on human rights in The Norwegian Academy of Science and Letters.
Ulrike Spring is associate professor of modern European history and head of research training at the Department of Archaeology, Conservation and History at the University of Oslo.
---
We Also Recommend