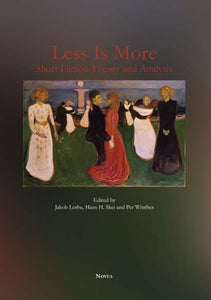 Lothe, Jakob et al. (eds.): Less Is More - Short Fiction Theory and Analysis
27500 kr

275,00 kr
Tax included.
Shipping
calculated at checkout.
---
---
This collection of original essays presents a range of insightful excursions in short fiction theory and analysis. A sequel to The Art of Brevity (University of South Carolina Press, 2004), this volume also brings together leading Anglo-American and Scandinavian specialists in the study of short fiction. Compared to the novel, the short story has been an oft-neglected genre, but this book significantly expands the field of short-fiction theory and analysis both geographically, conceptually and methodologically, forging new links not only between different theoretical perspectives and historical contexts but also between prose fiction and the visual arts.
 The book is in four parts: "Short Fiction and Questions of Genre," "Tradition and Innovation: Short Fiction of the American South," "Minimalism and Beyond: The Contemporary Short Story," and "Short Fiction and Other Media." Taken together, the essays of this volume amply demonstrate that master storytellers excel in the genre of short fiction, so that, in many cases at least, "less is more." 

Jakob Lothe is professor of English literature at the University of Oslo.

Hans H. Skei is professor of comparative literature at the University of Oslo.

Per Winther is professor of American literature at the University of Oslo and chair of the department of literature, area studies and European languages.

ISBN 978-82-7099-493-9, 219 pp., hardcover
Format: 14,5x20,5 cm, weight 0,5 kg, year of publication 2008

---
We Also Recommend