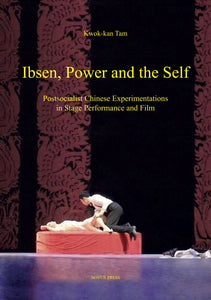 Tam, Kwok-kan: Ibsen, Power and the Self
29500 kr

295,00 kr
Tax included.
Shipping
calculated at checkout.
---
---
Postsocialist Chinese Experimentations in Stage Performance and Film

This is a study of how theatre and film artists in China, including Hong Kong, explore new visions of Ibsen that go beyond the socialist paradigm of treating Ibsen's characters, particularly Nora, Dr. Stockmann and Peer Gynt, as personifications of political discourse and class theory, with the self being reduced to ideological abstractions.

Since China's opening up in 1978, new theatre styles and new concepts of femininity have entered China and have given theatre artists new frameworks for revisioning the self in psychoanalytic dimensions and in relation to power and subjection. Ibsen has become a site of experi­mentation with traditional Chinese theatre aesthetics and stage design, as well as a testing ground for political and cultural representations of the female body in dance and opera. A visionary figure, Ibsen signifies the experi­mental and the non-traditional in China today.

Other than critical analyses, the book contains rare materials from the author's private collection, such as photographs and archival records of Ibsen performances on the Chinese stage, that are made available to the public for the first time.

Kwok-kan Tam is Chair Professor of English and Dean of Humanities and Social Science at the Hang Seng University of Hong Kong. He was Head (2012–18) and is currently member of the International Ibsen Committee, University of Oslo. He is Foundation Fellow of the Hong Kong Academy of the Humanities. He has published numerous books and articles on Ibsen, Gao Xingjian, modern drama, Chinese film, post­colonial literature, and world Englishes. His recent books include Chinese Ibsenism: Reinventions of Women, Class and Nation (2019), The Englishized Subject: Postcolonial Writings in Hong Kong, Singapore and Malaysia (2019) and a co-edited volume Fate and Prognostication in the Chinese Literary Imagination (2019).


Table of Contents

Preface
List of Figures

Introduction
Law, Ethics and Gender: Ibsenism in China's Quest for a Modern Selfhood

Chapter One
Socialist Experimentations with A Doll's House

Chapter Two
Postsocialist Peer Gynt and Rethinking Chinese Selfhood

Chapter Three
National Allegory in Postsocialist A Doll's House

Chapter Four
Gender and the Female Body in Cubist Representation

Chapter Five
Power and Gaze in Chinese Experimentations with A Doll's House

Chapter Six
Ghosts and New Womanhood in Motherhood

Chapter Seven
Women's Self in the Chinese Hedda Gabler and The Lady from the Sea

Chapter Eight
The Wild Duck and Its Tale in Two Cities

Conclusion: Ibsen, Power and the Self in Postsocialist Chinese Stage Representations

Bibliography

Glossary of Chinese/Cantonese Names, Titles and Terms

Index


ISBN 978-82-8390-017-0, 202 pp., paperback
Format: 17x24 cm, weight 0,5 kg, year of publication 2019, language: English

---
We Also Recommend