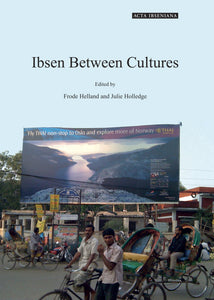 Helland/Holledge (eds.): Ibsen Between Cultures
31000 kr

310,00 kr
Tax included.
Shipping
calculated at checkout.
---
---
On all continents, across the greatest divides, Henrik Ibsen's plays are staged every week. Ibsen's dramas exemplify the simplest and most basic form of inter cultural exchange within the theatre: texts originating in one culture performed in translation in another culture.
As part of the global theatre repertoire, Ibsen's plays are constantly subject to localising acts involving the interplay between the local and the global. They reveal the interweaving of different cultures in site-specific appropriations.
The articles in this collection were produced by a team of international scholars collaborating on a research project entitled 'Ibsen Between Cultures'; it was funded by the Norwegian Research Council. The general aim of the project was to interrogate how we can account for the extraordinary international success of Ibsen's plays. Its specific goal was to reach new understandings of Ibsen's function as a global dramatist, and evaluate how the plays are altered, shifted, transferred and appropriated as they are localised to new cultural contexts. What happens to 'Ibsen' when he becomes an Indian, Bangladeshi, or Chinese dramatist? The articles that make up this collection address this question.
Frode Helland is Professor of Scandinavian Literature and Director of the ­Centre for Ibsen Studies at the University of Oslo, Norway.
Julie Holledge is a Professor at the Centre for Ibsen Studies at the University of Oslo, Norway.
ISBN 978-82-7099-863-0, 292 pp., paperback
Format: 17x24 cm, weight 0,6 kg, year of publication 2016, language: English
---
We Also Recommend