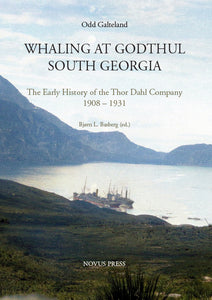 Galteland, Odd: WHALING AT GODTHUL SOUTH GEORGIA
30000 kr

300,00 kr
Tax included.
Shipping
calculated at checkout.
---
---
The Early History of the Thor Dahl Company 1908 – 1931
Whaling at Godthul, South Georgia started in 1908. The whaling company Bryde & Dahls Hvalfangerselskab, founded in Sandefjord, Norway by Thor Dahl and Ingvald Martin Bryde, was granted a licence from the British Government. While other whaling companies at South Georgia were based at shore stations, Bryde & Dahl operated with floating factory ships moored in Godthul throughout the whaling season.
The whaling at Godthul ended in 1929 and the harbour had only brief visits over the next couple of years. The company, which had been taken over in 1920 by Lars Christensen, Thor Dahl's son-in-law, then gradually explored new whaling grounds. It operated briefly in the South Shetland Islands, but more importantly it focussed on so-called pelagic whaling – independent from British licencing of whaling within its territorial waters.
This book is an abridged version of Galteland's book on Godthul published in Norwegian in 2017. It chronicles the day to day operations of the whalers. It also focuses on the wider Norwegian-British relations and policy issues that played a vital role in how Bryde & Dahl and indeed the entire whaling industry, developed.
---
We Also Recommend