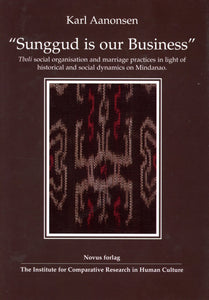 Antonsen, Karl: "Sunggud is our Business"
31000 kr

310,00 kr
Tax included.
Shipping
calculated at checkout.
---
---
Tboli social organisation and marriage practices in light of historical and social dynamics on Mindanao

Instituttet for sammenlignende kulturforskning/The Institute for Comparative Research in Human Culture (IFSK). Serie B, 114.

In the Philippines, the Tbolis have recently become famous for their colourful attire and weaving techniques, not least through colourful publications featuring Philippine tribal art. However, there has been very little discussion about the Tboli from a social anthropological point of view. The Tbolis' social organisation has hardly attracted any attention, nor has anyone addressed the apparent contradiction between their marriage practices and current models of marriage payments. The Tbolis' practice of providing substantial marriage prestations for the bride (sunggud), combined with uxorilocal settlement, cannot be accounted for by previous approaches to marriage payments in European and American anthropology. The objec tives in this monograph are therefore twofold. First, it is an account of the Tbolis' customs, suggesting a model of their social organisation in general and their marriage practices in particular. Second, it aims to make a theo retical contribution to the general understanding of marriage payments.

Central to the author's argument is a discussion of the ways in which social relations are constituted and the kind of transactions that the various types of social relationships facilitate. Equally important is the recognition that people bring multiple concerns into their encounters, that people are socially differently positioned, and that the meaning of an act may vary according to these positions. From this point of view, there should not be assumed in beforehand that the meaning of marriage payments is the same for the bride, the groom, the bride's father, her mother, the groom's father and mother, and all the other relatives on both sides who contribute to the exchange of marriage prestations. Thus the question must be reformulated . Instead of asking: "What is the meaning of the Tboli marriage payments?", the author asked: "What meanings do sunggud and its counterpart lós (pro vided by the bride's side) acquire for the involved actors, and how do these meanings vary according to their various social positions?"



ISBN 978-82-7099-379-4, 267 pp., hardcover
Format: 17x24 cm, weight: 1 kg, year of publication 2003, language: English

---
We Also Recommend