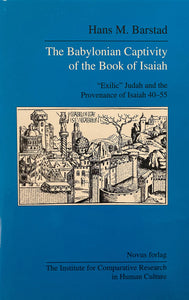 Barstad, Hans M.: The Babylonian Captivity
19500 kr

195,00 kr
Tax included.
Shipping
calculated at checkout.
---
---
Instituttet for sammenlignende kulturforskning/The Institute for Comparative Research in Human Culture, Serie B. IFSK:102

Within the last two hundred years critical scholarship has come to recognise that chapters 40-55 of the Old Testament Book of Isaiah do not go back to the same milieu and time as chapters 1-39, but were written in Babylonia during the period of the so-called Babylonian exile, following Nebuchadnezzar's conquest of Jerusalem in 586 B.C. The author of the present monograph has previously on several occasions challenged the view that Isa 40-55 originated in Babylonia and has pointed to Palestine as the most likely background for this important Biblical text. The main conclusion of this new study is that none of the l9th century arguments (still prevailing in recent scholarship) in favour of a Babylonian setting of Isa 40-55 are acceptable today. The "Babylonian Isaiah", consequently, provides us with an illustrating example of how a thesis has continued to have a strong influence long after the presuppositions which once led its birth have ceased to be valid. Since the placing of chapters 40-55 of the Book of Isaiah in a Babylonian rather than a Palestinian context has also had a profound effect on how this text should be understood, The Babylonian Captivity of the Book of Isaiah represents a much needed and long overdue corrective to the whole Second Isaian debate. Hans M. Barstad is Professor of Biblical Studies at the University of Oslo and has published widely on the Hebrew Bible and the ancient Near East. His books include The Religious Polemics of Amos. Leiden, 1984, A Way In the Wilderness. The "Second Exodus" in the Message of Second Isaiah. Manchester, 1989, and The Myth of the Empty Land. A Study in the History and Archaeology of Judah During the "Exilic" Period. Oslo, 1996. The Institute for Comparative Research in Human Culture. Series B, no. 102.
---
We Also Recommend