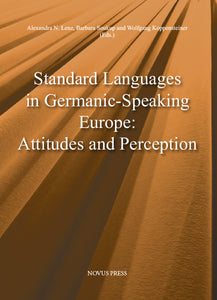 Lenz/Soukup/Koppensteiner (Eds.): Standard Languages in Germanic-Speaking Europe: Attitudes and Perception
38500 kr

385,00 kr
Tax included.
Shipping
calculated at checkout.
---
---
This book is the fourth publication from the international group of researchers involved in developing the SLICE programme, SLICE being an acronym for Standard Language Ideology in Contemporary Europe.
SLICE is interested in ideologies of language as much as in the forms and functions of languages themselves, and in exploring how ideology can be made visible by different research methods. This implies a commitment to researching the attitudes and value-structures that underpin attributions of 'standard', potential subjective complexities and shifts in these subjectivities.
One of SLICE's key objectives is to make informed assessments of the extent and nature of linguistic destandardisation in contemporary European contexts. While sociolinguistic attention has so far been given to standardising processes – the mechanisms by which language varieties 'rise' to function ideologically and practically as standard varieties – it is also necessary to move beyond linear accounts and to explore whether and how varieties that have functioned as standards may be losing their legitimacy. Is there evidence that ways of speaking that have been positioned as 'non-standard' or vernacular varieties are 'moving up' to function in domains previously associated with standard varieties? More radically, is there evidence that the ideological systems that have supported attributions of standard and vernacular language may be crumbling, losing their potency or being restructured? Is it appropriate to see late modernity as an era when linguistic standardisation is in some ways and in some places being reversed, or at least rendered more complex and multi-dimensional?
Contents
Alexandra N. Lenz, Barbara Soukup and Wolfgang Koppensteiner Introduction: Standard languages in Germanic-speaking Europe – Attitudes and perception
Alexandra N. Lenz, Barbara Soukup and Wolfgang Koppensteiner Standard German in Austria from the folk perspective: Conceptualizations, attitudes, perceptions
Elisabeth Buchner, Eva Fuchs and Stephan Elspaß Standard and non-standard varieties in Austrian schools: The perspectives of teachers and students
Regula Schmidlin Standard variation and linguistic attitudes in German-speaking Switzerland: From the etic to the emic perspective
Albrecht Plewnia Measuring attitudes towards standard German and German dialects: Results of recent representative survey data from Germany
Anne-Sophie Ghyselen Attitudinal and perceptual research as part of the methodological toolbox to define standard languages: Advances, issues and perspectives in research on Belgian Dutch
Chris Montgomery Perceptions of non-standardness in an assumed 'Standard' English variety
Nicolai Pharao Understanding standard language: A psycholinguistic look at Danish regional and casual speech variation
Contributors: Elisabeth Buchner, PhD candidate, University of Salzburg, Austria. Stephan Elspaß, Full Professor, University of Salzburg, Austria. Eva Fuchs, PhD candidate, University of Salzburg, Austria. Anne-Sophie Ghyselen, Post-Doctoral Researcher, Ghent University, Belgium. Wolfgang Koppensteiner, PhD candidate, University of Vienna, Austria. Alexandra N. Lenz, Full Professor, University of Vienna, Austria. Director of the Austrian Centre for Digital Humanities and Cultural Heritage, Austrian Academy of Sciences, Austria. Chris Montgomery, Senior Lecturer, University of Sheffield, UK. Nicolai Pharao, Associate Professor, University of Copenhagen, Denmark. Albrecht Plewnia, Director of the Research Programme 'Language in the Public Arena', Leibnitz Institute for the German Language (IDS), Mannheim, Germany. Regula Schmidlin, Full Professor, University of Fribourg, Switzerland. Barbara Soukup, Assistant Professor, University of Vienna, Austria.
---
We Also Recommend