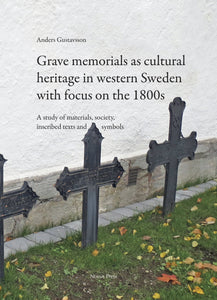 Gustavsson, Anders: Grave memorials as cultural heritage in western Sweden with focus on the 1800s
21000 kr

210,00 kr
Tax included.
Shipping
calculated at checkout.
---
---
A study of materials, society, inscribed texts and symbols


The objective of this book is to study grave memorials as cultural expressions of the time in which they were erected.

The period under study extends from the early 1800s, when permanent grave memorials began to be erected at cemeteries in Sweden, to the 1900's. The analysis concentrates on the following aspects of the topic: materials, social differences, gender, age, view on life/afterlife, protection, anonymity-collectivity- individuality. As a result of the analysis of messages on grave memorials, the author also addresses cultural heritage issues: what should be selected and defined as cultural heritage and thus should be preserved and made available for posterity?


Content

Objectives 7
Method of data selection 7
Materials 10
Historical background prior to 1800 10
New types of grave memorials since 1815 10
Social differences 20
How are social differences indicated? 20
Gender 28
The woman's surname 28
Single women 30
Age, with focus on children and young people 34
Children 34
Young people 36
View on life/afterlife 38
Inscribed texts 38
References to the Bible and the hymnal 43
Pictorial Symbols 45
Protection 51
What is worthy of preservation for posterity in the cemeteries? 51
Concluding aspects: Anonymity – collectivity – individuality 60
Anonymity 60
Collective grave memorials 61
Individuality 63
References 65
Unprinted sources 65
Internet 65
Printed sources and literature 65


ISBN 978-82-7099-796-1, 67 pp., hardcover
Format: 17x24 cm, weight 0,4 kg, year of publication 2014, language: English