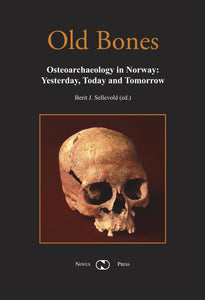 Sellevold, Berit J. (ed.): Old Bones
36000 kr

360,00 kr
Tax included.
Shipping
calculated at checkout.
---
---
Osteoarchaeology in Norway: Yesterday, Today and Tomorrow
Osteoarchaeology has functioned as a supplementary discipline to archaeology in Norway on varying conditions over the years. In recent years, physical, chemical and biomolecular analytic methods have been developed which importantly increase the potential of skeletal remains as source material, both in archaeology and other disciplines.
At the same time, there is a growing concern about the ethics associated with using this material in research, and in handling and curating it. In February 2011, a two-day symposium took place with the purpose of examining the past, present and future status of osteoarchaeology within this country's cultural heritage management. This book comprises seventeen articles based on presentations given at the symposium. The main object of the book is to present and discuss the many facets of Norwegian osteoarchaeology, and to demonstrate the interdisciplinary activities of scholars and scientists in this field.

Dr. philos. Berit J. Sellevold (born 1941) has recently retired from her position as senior research scientist in osteoarchaeology in NIKU – Norwegian Institute for Cultural Heritage Research. Her many publications deal with interdisciplinary research on human skeletal remains from archaeological find contexts in Norway and Denmark, from prehistoric, medieval and post-medieval times. Among her most important publications are From De­ath to Life in Medieval Hamar – Skeletons and Graves as Historical Source Material (Oslo 2001) and Iron Age Man in Denmark (Copenhagen 1984) which she published together with the Danish archaeologist Ulla Lund Hansen


Contents

Carsten Paludan-Müller
Preface 9

Berit J. Sellevold
Introduction 11

Part 1 – Historical Survey: Skeletons in Norwegian Archaeology

Berit J. Sellevold
From Physical Anthropology to Osteoarchaeology 17

Jan Brendalsmo
Skeletons in the Closet. A Committee Work 1984–1986. Revisited 37

Anne Karin Hufthammer
Animal Osteology in Norway 53


Part 2 – Osteological Investigations: Establishing an Archaeological Source Material

Stine Camilla Bergum
Aging Human Juvenile Remains 75

Katharina Lorvik
Human Skeletal Remains – Information Potential and Archaeological Practice 99

Sean Dexter Denham
Commingled Human Remains from Stavanger Cathedral 117


Part 3 – Osteoarchaeology: Skeletons as Archaeological Source Material

Petter B. Molaug
Skeletons in the Cupboard and in the Earth. Finds from Medieval Oslo as Archaeological Source Material 139

Hanne Ekstrøm Jordahl
Death in Medieval Tønsberg – A Survey of Graves and Human Remains 163

Yvonne Fernmar Willumsen
Post-Medieval Burials by the Kristiansand Cathedral 183

Ann Kathrin Jantsch and Mona Ødegården
Memento mori? Recent Burials in the Grave Cellars of the Church of Our Lady, Trondheim 203


Part 4 – New Methods, New Possibilities: The Future of Osteoarchaeology in Norway

Christina Heuck Henriksson, Berit J. Sellevold, Karin Näsström and Anne Møystad
Digital Radiography in Osteoarchaeology: A Standardized Method to Evaluate Teeth and Jaws in Neolithic Dental and Skeletal Remains from Västerbjers Gotland 225

Per Persson
Molecular Genetics and the Introduction of Agriculture to Northern Europe 237

Lars Gustavsen
Archaeological Geophysics in Norwegian Funerary Archaeology 261


Part 5 – Ethics and Osteoarchaeology: Human Remains as Archaeological Source Material

Oddbjørn Sørmoen
Reflections on Ethics and Human Remains 279

Jon Røyne Kyllingstad
The Concept of a Lappish Race: Norwegian Research on Sami Skeletal Remains in the Interwar Years 287

Unn Yilmaz
Respecting the Skeletons – Between Human Remains and Archaeological Source Material 305

Inger Karlberg
Death is Life's Master – Mors Magister Vitae 321


Sammendrag 339


The Authors 353


ISBN 978-82-7099-783-1, 356 pp., softcover
Format: 17x24 cm, weight 0,8 kg, year of publication 2014, language: English