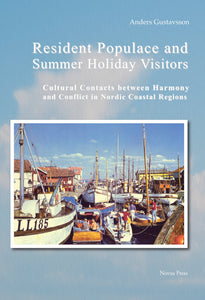 Gustavsson, Anders: Resident Populace and Summer Holiday Visitors
19500 kr

195,00 kr
Tax included.
Shipping
calculated at checkout.
---
---
Cultural Contacts between Harmony and Conflict in Nordic Coastal Regions
In Sweden, summer holiday visitors from the towns have long gone out to certain coastal localities. The connections with the holiday summer visitors were a new experience for the local residents from the 1880's on.

In this book the author has examined the behavioural relationships between these two populace categories until present time. A harmonic relationship and one characterized by conflict are at opposite ends of the spectrum. Harmony, latent conflicts and open conflicts replace each other during different decades.


Contents

Introduction 7

The Summer Lodger Phase: 1880s – ca 1940 10

Increasing Differences during the 1940s and 1950s 24

Increasing Differences during the 1960s and 1970s 31

Mobile Tourists seen as a New and Expanding Category in the 1960s and '70s 44

Islanders and Holiday Visitors in the Borgå Archipelago of Finland 46

Norwegian Tourists in Bohuslän 56

The Bohuslän Flag 87

International Mass Tourism in the 2000s 89

Concluding Remarks 92

Unprinted Sources 94

References 95


ISBN 978-82-7099-736-7, 96 pp., hardcover
Format: 17x24 cm, weight 0,3 kg, year of publication 2013, language: English