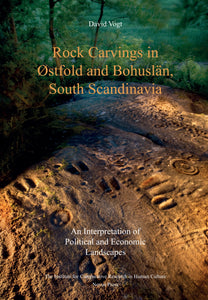 Vogt, David: Rock Carvings in Østfold and Bohuslän
34500 kr

345,00 kr
Tax included.
Shipping
calculated at checkout.
---
---
South Scandinavia. An Interpretation of Political and Economic Landscapes

For nearly four hundred years the rock carvings in Bohuslän and Østfold in southern Scandinavia have been a topic of scientific research. It has been claimed that these carvings were distributed near the Bronze Age fields and habitation sites.
This claim has formed the main basis for the idea that the carvings were part of a fertility cult. However, new GIS-analysis, data about habitation sites in Bohuslän and Østfold and metal finds indicate that this is not the case. The distribution pattern of rock carvings has a dissimilar context to that previously claimed. They are systematically located in areas with heavy clay soil – areas not associated with prehistoric fields, agriculture and habitation sites. Pollen analyses indicates that these plains were forested before being altered in the Late Bronze Age. They were rapidly transformed into vast grasslands used for pasture, and at the same time rock carvings appeared in hundreds and thousands. This book takes an economic and political perspective on the role of rock carvings in the landscape and its dramatic transformation.


David Vogt is a researcher of archaeology at the Museum of Cultural History, University of Oslo. He specializes in rock carvings and the Scandinavian Bronze Age. This is his first book in English about rock carvings.


Contents

Preface 5

List of figures 11

Chapter 1. Introduction

1.1 Introduction and problems 15

1.2 The outline of the thesis 18

1.3 The structure of the thesis 20


Part I – The Background 25

Chapter 2. The rock carvings in Østfold and Bohuslän – a general background

2.1 Introduction 27

2.2 An introduction to the history of research 27

2.3 The discovery of the rock carvings in Østfold and Bohuslän 30

2.4 The distribution of the rock carvings – an overarching perspective 36

Chapter 3. The era of the rock carvings basic traits of the European Bronze Age

3.1 Introduction 41

3.2 Southern Europe 42

3.3 Central Europe 43

3.4 Northern Europe 45

3.5 Conclusion 47


Part II – Dating the rock carvings in Østfold and Bohuslän 51

Chapter 4. From comparison to typology – status of the dating debate

4.1 Introduction 55

4.2 Comparative dating 55

4.3 Attempts at reaching a detailed typology 57

4.4 Typology of figures 58

4.5 Typology of rock carving panels 60

4.6 Conclusion 61

Chapter 5. Rock carvings in Bronze Age tombs and carved figures on bronzes

5.1 Introduction 63

5.2 Rock carvings in Norwegian tombs 64

5.3 The Swedish tombs with rock carvings 67

5.4 Tombs on the continent 70

5.5 Ship figures on Southern Scandinavian bronze objects 72

5.6 The Wismar Horn and the Rørby Sword 74

5.7 Conclusion 77

Chapter 6. Comparative dating of the rock carvings in Østfold and Bohuslän

6.1 Introduction 81

6.2 Comparative dating in Østfold and Bohuslän 82

6.2.1 Chapes 82

6.2.2 Shields 86

6.2.3 Helmets 93

6.2.4 Greaves 93

6.2.5 Chariots 94

6.2.6 Lurs 97

6.2.7 Animals 97

6.2.8 Triskelia 100

6.2.9 Axes 101

6.2.10 Remaining datable elements 101

6.3 Datable elements – more general considerations 101

6.4 Conclusion 108

6.5 Conclusion Part II 109


Part III – Rock carvings and landscape 115

Chapter 7. The distribution of the rock carvings in Østfold and Bohuslän: the macro and micro level - a general picture

7.1 Introduction 121

7.2 The distribution of the rock carvings at the macro level 122

7.3 The distribution of the rock carvings at the micro level:
a methodical approach 125

7.4 Conclusion 136

Chapter 8. The landscape in the Bronze Age

8.1 Introduction 137

8.2 Clayey plains and a natural vegetation picture in Sub-boreal times 137

8.3 The cultural landscape at Torbjørnrød at Onsøy: results of a pollen analysis 139

8.3.1 The Pollen samples 141

8.4 The landscape of the rock carvings 147

8.5 Conclusion 149

Chapter 9. The context of the rock carvings

9.1 Introduction 151

9.2 Bronze Age settlements in Østfold and Bohuslän 151

9.3 Bronze Age settlements in Skåne and Denmark 169

9.4 The metal finds from the Bronze Age in Østfold and Bohuslän 170

9.5. Hill-top cairns 173

9.6 The Bronze Age in Østfold and Bohuslän: a summary 176

9.7 Conclusion of part III 178


Part IV – Rock carvings and the political landscape 181

Chapter 10. Political organization, differentiated landscapes and ideology – theoretical discussion

10.1 Introduction 185

10.2 Internal social conditions in complex societies 185

10.3 Economy 191

10.4 Military power 194

10.5 Ideology 196

10.6 Social semiotics and landscape 203

10.7 The spatial dimension in socio-political organizations 209

10.8 Conclusion 211

Chapter 11. Political and economic strategies – regional variation in Southern Scandinavia

11.1 Introduction 215

11.2 Center and periphery in the Southern Scandinavian Bronze Age 215

11.3 Pastoralism and rock carvings – economy and ideology 221

11.4 Pastoral economy 222

11.5 Conclusion 230

Chapter 12. The Rock carvings in Østfold and Bohuslän: contexts, origin, distribution and communication

12.1 Introduction 233

12.2 Motifs of central European origin 234

12.3 Figures of Nordic origin 247

12.4 The cup marks 253

12.5 Conclusion 255

Chapter 13. Rock carvings as a political and ideological system of symbols

13.1 Introduction 259

13.2 The rock carvings as religious expressions 259

13.3 Rock carvings as an ideological and political system of symbols 263

Chapter 14. Conclusion 271

Bibliography 275

Pollen analytical studies at Torbjørnrød, Onsøy in the municipality of Fredrikstad, Østfold 301

Bibliography 306


Index 309


Instituttet for sammenlignende kulturforskning (IFSK). Serie B: 142. Se hele her.

ISBN 978-82-7099-666-7, 315 pp., hardcover
Format: 17x24 cm, weight 1 kg, year of publication: 2011, language: English