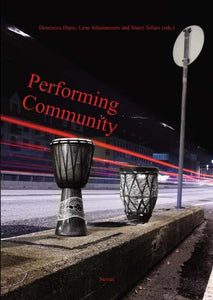 Dipio, Dominica et al. (eds.): Performing Community
26000 kr

260,00 kr
Tax included.
Shipping
calculated at checkout.
---
---
Essays on Ugandan Oral Culture

Ugandan culture is rich in traditions of oral performance, celebrating rituals of belonging, transformation and resolution. The essays in this book, produced as the first fruits of a collaboration with the University of Bergen, explore the range of these forms. They seek not only to describe and record, but to analyse the various forms in the ways that they address the problems and challenges of the modern state.
Varied in approach and technique, they offer a insistent and reflective probing into the relations between individual and community, tradition and modernity, and African and western outlooks.

Together, the volume also contributes to the changing study of oral culture, raising issues that are applicable to oracy within cultures of many kinds, throughout the world. Through its detailed focus on specific oral forms, Performing Community consequently achieves a far greater relevance in the study of oracy, and its engagement with the pressing needs of the modern world.

ISBN 978-82-7099-499-1, 275 pp., paperback
Format: 14,5x20,5 cm, wight: 0,4 kg, year of publication: 2008